Wellness in Hotel Kronenhof in Oberstaufen
Find your balance through well-being, comfort & nature
Today we call it "wellness". But actually, the piece of wisdom that water and warmth benefit your body and soul is thousands of years old and it helps you find your inner balance.
On your wellness holiday in 4-star Hotel Kronenhof you can immerse yourself in these "miraculous elements" in our spacious swimming pool, whirlpool, sauna and infrared cabin, to your hearts content.  We also offer two more important pillars for a deep and long-lasting relaxation: peace and the homely atmosphere in a family-run traditional hotel.   You will feel you are in good hands and during your wellness holiday at our hotel you can truly be yourself.
Why should you do a wellness holiday at our hotel?
When did you last walk barefoot through a meadow, as carefree and contented as a child....?
We have such a colourful meadow for you, surrounded by tall fir trees on the edge of the woods. Enjoy the beauty of the landscape with your own eyes from our elegant terrace. Look for a lounger to sunbathe on or just daydream. How about deciding to walk, just once barefoot through the meadow....
Wellness, Massages & Beauty
in Hotel Kronenhof in Oberstaufen
Massages, beauty, health and wellness treatments
Allgäu mountain fresh peeling – Ayurveda – Access Bars® - balance for body and soul to clear your head andprovidethe lightness of being.  These treatments show how unusual the range of our treatments offered are.  Ranging from classical or bioenergetic massages, beauty treatments to mindfulness body therapies, that release inner healing and vital energies.  Our wellness and well-being experts use their whole expertise and experience with their hearts and souls.
Indoor swimming pool and sauna in Hotel Kronenhof in Oberstaufen
Depending on the position of the sun, you can bathe not just in our indoor swimming pool in the water but also in rays of sun. Our spacious pool is open all year round for sport & exercise or to just float in & relax. The stiffness of your muscles will melt away in our finnish sauna....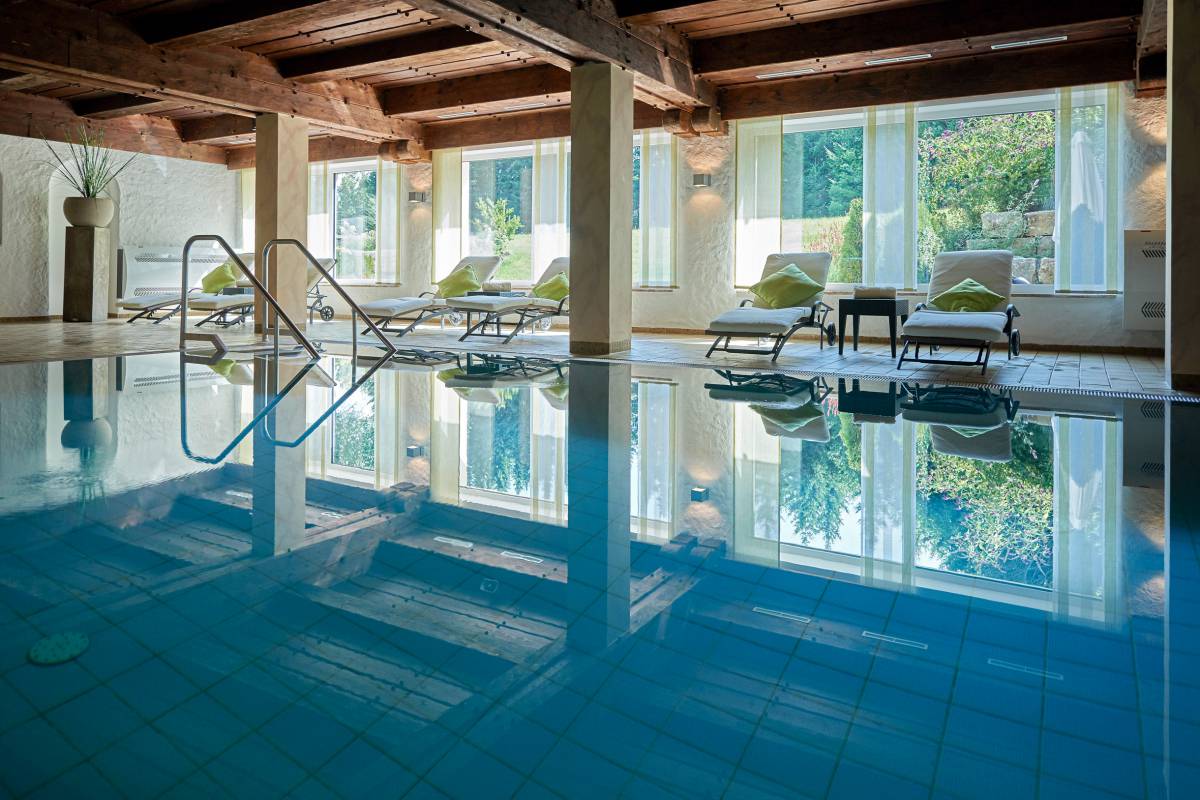 Wellness holiday in Hotel Kronenhof: pure relaxation!
The Wellness philosophy in Hotel Kronenhof
The 8 ingredients for perfect wellness at our hotel
Strength, a positive outlook and feeling at ease through nature (extensive garden with Allgäu meadow, wood elements in the whole hotel, even in the swimming pool)
Wonderful peace, to relax
Weekly activity programme (yoga, exercises, nutritional lecture etc.) & gym
Small touches to be seen everywhere (hearts and fresh flowers)
Mild and stimulating climate from Oberstaufen