Hiking & Biking in Oberstaufen
Experience step by step why Oberstaufen was once chosen as the hiking resort of the year.
Glide with the Hochgrat cable car into the sunrise. Cycle directly from the Kronenhof up to the summit of the Allgäu or cycle alongside the Lake Constance-Königsee cycle path. Cool off in midsummer at the impressive Buchenegger waterfalls ...
Wonderful outdoor experiences, day after day, will make your hiking holiday or mountain bike holiday in Oberstaufen unforgettable. And in winter 200 km of winter walking trails await you, for great winter tours.
Step by step
through the walking paradise Allgäu
Put on your walking boots - and off you go, on your own or on a guided Kronenhof walk. You have the choice of over 300 km of walking trails - including 3 spectacular premium hiking trails - you can hike step by step through the varied beauty of Allgäu. Gentle valleys invite you to enjoy some easy walks, and our 1,834 m local mountain, the Hochgrat "calls to you" to come and discover the mountain world. The Nagelfluhkette Natural Preserve will enchant you with its unique geological landscape. Here you can not only enjoy an amazing view over the Alps, but also see mountain wildflowers such as the silver thistle, blue monkshood or wild carnations. A tour to the area named "Paradies", over the Kapf mountain, is also particularly impressive: a breathtaking tri-border view of German, Austrian and Swiss mountain ranges opens up before your very eyes.
Nordic walkers can look forward to 90 km of signposted Nordic walking trails.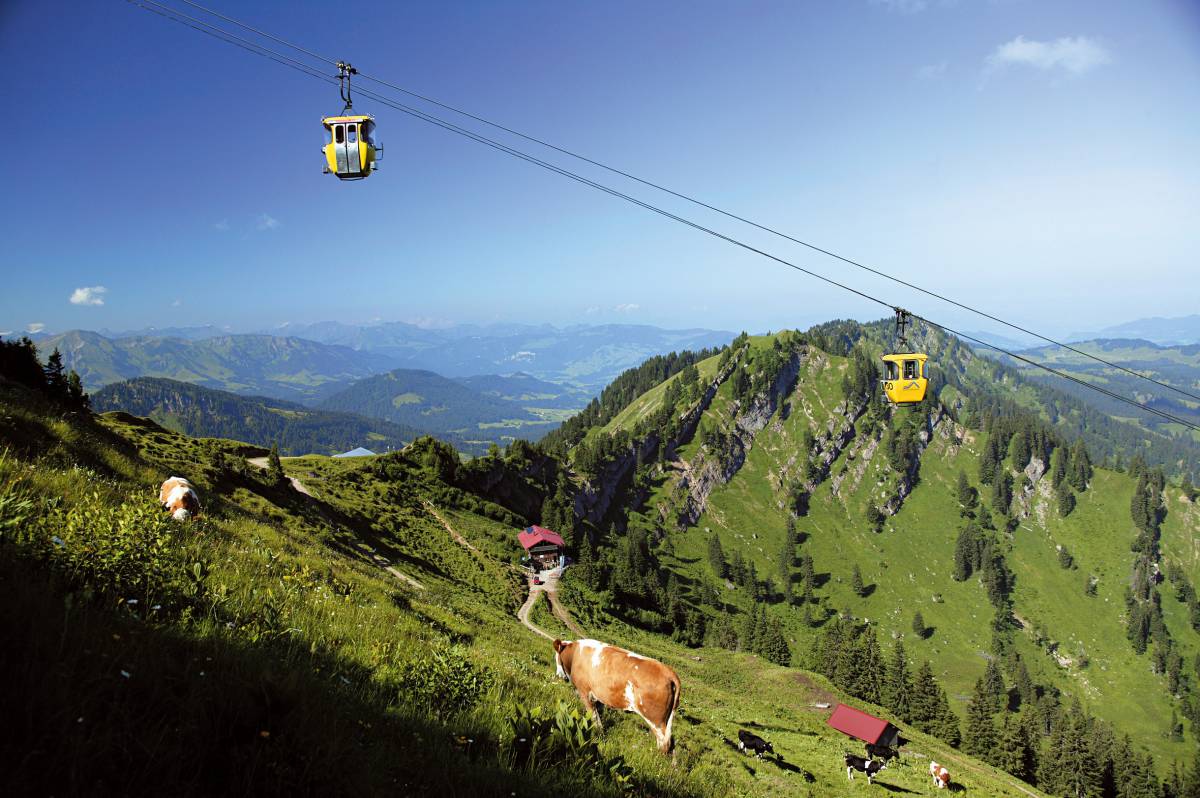 We would especially like to recommend the following to you
The sunrise, sunset and full moon rides with the Hochgrat cable car up to the summit
A walk to see the ancient Oberstaufen trees – witnesses of time
Experience guided walks with the local Nature & Landscape Guide, Theo. During his tours he opens your eyes to the wonder of the surrounding nature with his deep knowledge and he reveals the secrets of the power of wild herbs, or the geological fossils around the region. He shows you how to hike in a healthy way.
Suggestions in summer
Hiking tours in Allgäu
Suggestions in winter
Winter hiking in Allgäu
Mountain biking & cycling
Cycling in Allgäu
From pleasurable to sporty
As varied as the landscape is, as varied are the routes available to bicycle lovers, in and around Oberstaufen. Pass grazing cows and fresh water streams, rustic alpine huts wind their way up the hills and mountains, sometimes steeper and sometimes easier. For the lesser trained cyclist who still wants to get a taste of the summit air, you can simply rent an e-bike with a "built-in tailwind". You can recharge your e-bike directly at your Hotel Kronenhof in Oberstaufen.
PS: The Bodensee-Königsee-Radweg (Lake Constance-Königsee cycle path) passes directly by the hotel and takes you to Lindau (approx. 4.5 hours). You can easily return by train.
Bike tours
Our mountain bike recommendations in Allgäu
Active holiday at Hotel Kronenhof
We have been awarded the "Wanderfreundliches Hotel" (Most Hiker Friendly Hotel) as well as the "Fahrradfreundliches Hotel" (Most Cyclist Friendly Hotel) here in Oberstaufen. We are more than happy to be able to advise you, devising your very own personal route. We have recommendations & maps at the reception desk, for all levels of ability!